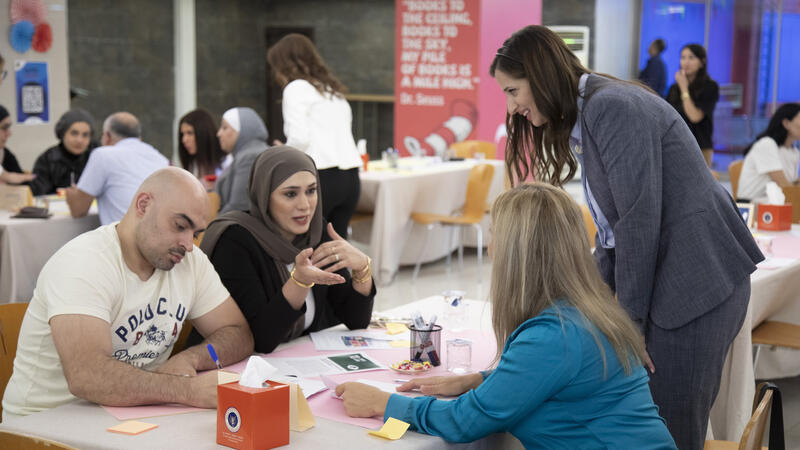 The Modern American School held an introductory workshop on the essential theme of "Teaching and Learning Within Classrooms." Throughout this interactive workshop, we emphasized the significance of nurturing collaborative relationships to enhance the overall well-being of learners. 
Furthermore, we explored the concept that well-designed learning environments should be flexible and accommodating to diverse approaches to understanding, problem-solving, and critical thinking. As the workshop concluded, participants gained valuable insights into our approach at MAS, which involves creating dynamic and inclusive classroom settings that promote comprehensive and transformative learning experiences for their children.
أقامت المدرسة الأمريكية الحديثة ورشة عمل تعريفية حول موضوع "التعليم والتعلم داخل الفصول الدراسية". خلال هذه الورشة التفاعلية، أكدنا على أهمية تربية علاقات تعاونية لتعزيز رفاهية الطلاب بشكل عام.
وعلاوة على ذلك، استكشفنا مفهوم أن بيئات التعلم المصممة بشكل جيد يجب أن تكون مرنة وميسّرة للنهج، القدرة على حل المشكلات واستخدام التفكير النقدي. ومع اختتام الورشة، اكتسب المشاركون رؤى قيمة حول نهجنا في المدرسة الأمريكية الحديثة، الذي يتضمن إنشاء إعدادات صفية ديناميكية وشاملة تشجع على تجارب التعلم الشاملة  لأبنائهم